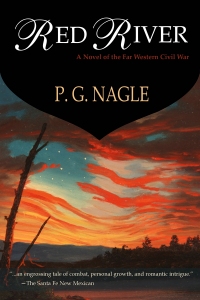 Far Western Civil War #4
"Whatever place my name is destined to occupy in the golden book of the Republic I expect to engrave it there with the point of my sword."
―Richard Taylor, Major-General, C.S. Army
The port city of Galveston has been reclaimed by the Confederacy, and Jamie Russell's unit, the Valverde Battery, is sent to aid General Richard Taylor's army in defending Louisiana. While cotton and vital supplies move between Texas and the east on the Red River, the Federal navy attempts to tighten its stranglehold on the Confederacy by gaining control of this vital waterway that feeds into the Mississippi River.
Union General Nathaniel Banks has set his sights on the Red River, and sends an army from Federal-held New Orleans to attack General Taylor's forces along the Bayou Teche. Pushed back by overwhelming numbers, Jamie and the Confederate army retreat to the Red. There is no doubt that Banks will follow them, but first Jamie must cope with the loss of friends in the recent fighting, and the unexpected reappearance in his life of the beautiful, rich cotton smuggler, Mrs. Hawkland.
As the Federal army and navy begin to move up the Red River, Jamie and his compatriots try everything in their power to stop their inexorable advance. From blocking the river with a sunken luxury steamboat to digging canals to lower the water level, Confederate ingenuity plagues the Federals at every turn, but will it be enough to stop the large and powerful Federal forces from seizing control of the last Confederate lifeline? Jamie knows he is moving toward what may be the final confrontation for Taylor's army and the Valverde Battery.
"Nagle vividly depicts its hardships and dangers. The Civil War history is accurate and colorful…"
―Publishers Weekly
Buy at your favorite online bookseller.
Order the out-of-print hardcover from the author (autographed if you wish)